ApeCoin staking is live! Rewards start December 12. Should you care?
That depends on your current Yuga Labs holdings, your location, and your risk tolerance. During the first year, 100 million ApeCoin ($APE) is up for grabs, so let's cover the pros, the cons, and the timing of the biggest milestones so that you can pick your entry and exit points.
How Does Staking Work?
There are four ApeCoin staking pools: BAYC, MAYC, BAKC, and $APE-only. Your associated NFTs are keys that grant you access to the first three pools, and anyone can stake in the $APE-only pool. You can't stake in the BAKC pool without owning a Bored Ape or Mutant, so it's an overflow pool for Apes and Mutants who own a Kennel NFT and want to stake a little extra.
The NFTs themselves aren't staked or locked. Only $APE is staked, and you can unstake or claim your rewards whenever you want. Like a key to a safe, your Committed NFT allows you to add or remove your $APE.
Be sure to unstake your $APE and claim accrued rewards before you sell your Committed BAYC, MAYC, or BAKC. Alternatively, uncommit your NFT to receive all your related $APE. Selling a Committed NFT gives your key to someone else, and they will get all the associated $APE you leave behind.
Don't lose your ApeCoin!
ApeCoin rewards are not automatically added to your staking position. You have to claim rewards and then stake your claimed $APE if you want to use your rewards to increase your staked amount.
How are Rewards Calculated?
So how will 100 million ApeCoin be distributed over the next year? These numbers are the total rewards across all four pools:
Q1 (December 12 - March 13): 35 million $APE
Q2 (March 13 - June 13): 30 million $APE
Q3 (June 13 - September 12): 20 million $APE
Q4 (September 12 - December 12, 2023): 15 million $APE
The quarterly decrease is only 14 percent from Q1 to Q2, but notice that the biggest decline is 33 percent from Q2 to Q3 on June 13, 2023. We'll come back to that.
Holding an NFT from a more valuable collection and staking in its related pool will likely yield the highest returns. The BAYC pool gets roughly 47 percent of the total staking rewards, MAYC takes 19 percent, BAKC earns just under 4 percent, and the remaining 30 percent goes to the $APE-only pool. While it's technically possible that a less exclusive pool could outperform the BAYC pool, I expect the yield percentage to be: BAYC > MAYC > BAKC > $APE-only.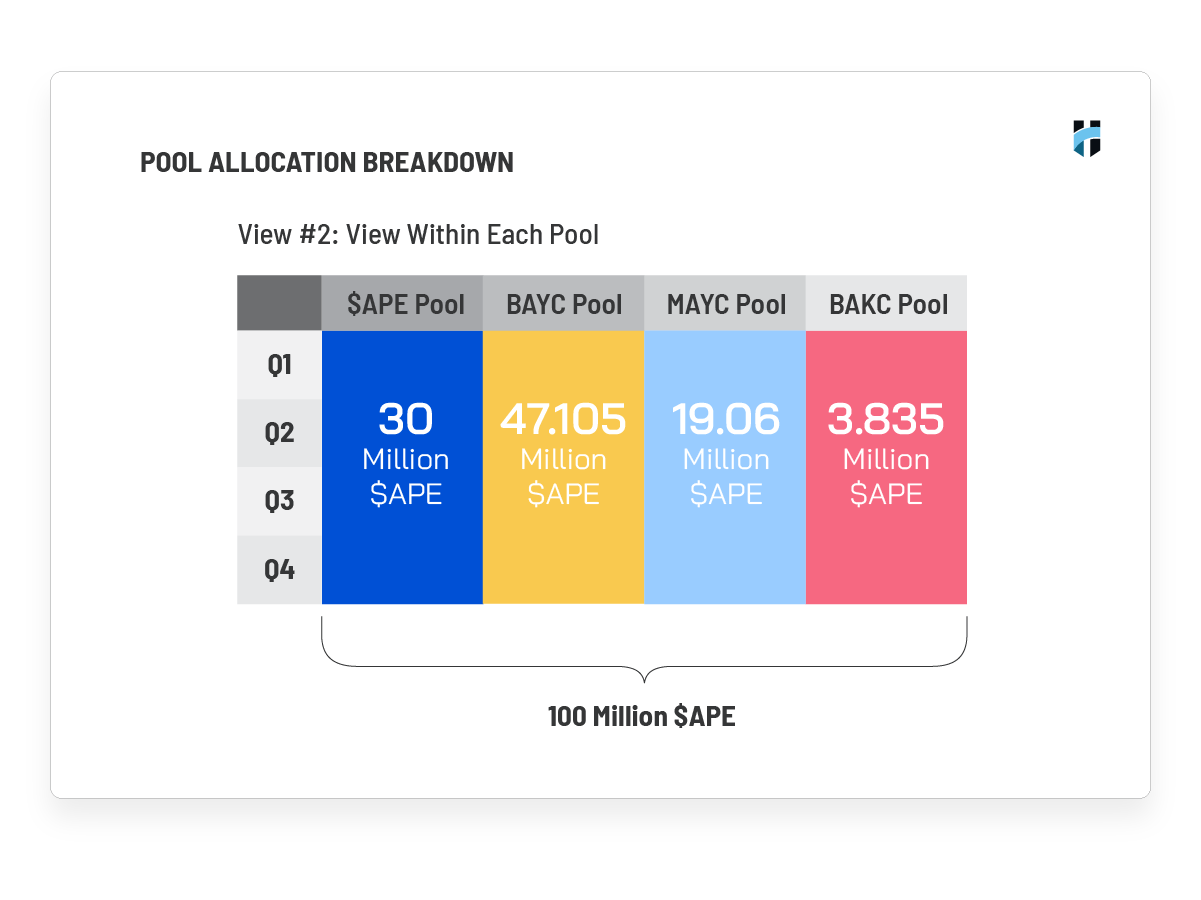 Each BAYC NFT can stake 10,094 ApeCoin in the BAYC pool. Each Mutant can stake 2,042 $APE in the MAYC pool. And BAKC NFTs paired with a Bored Ape or Mutant can stake 856 $APE to the BAKC pool. The $APE-only pool has no cap or NFT requirements, which is why it should earn the lowest amount per ApeCoin staked.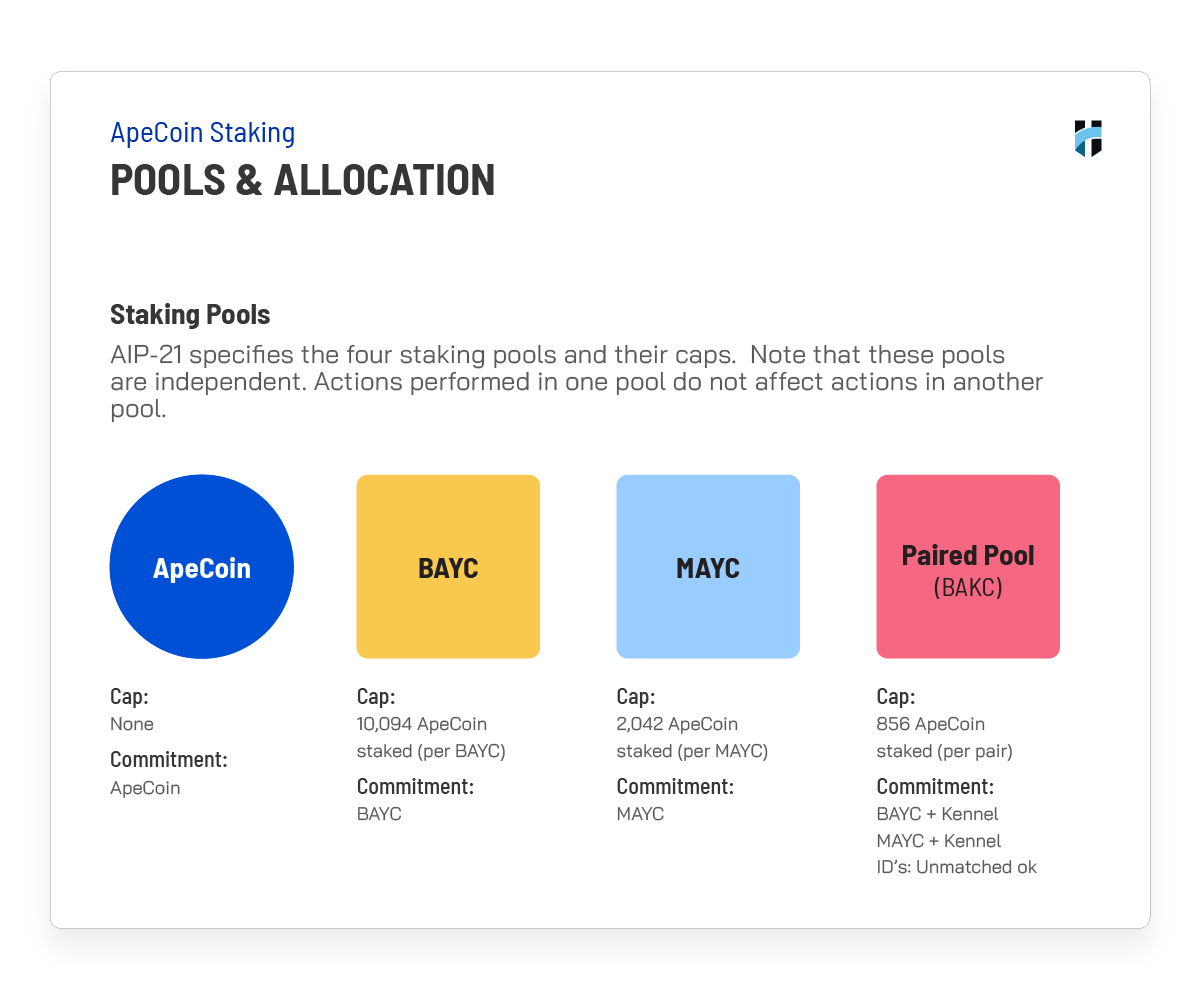 Every hour, the staking algorithm awards $APE based on the percentage of $APE each person owns in that pool. For example, the MAYC pool gives out a total of 3,054 $APE per hour in Q1. If your staked $APE represents one percent of the total $APE staked in that pool during that hour, then you would be awarded 3,054 * 0.01 ~= 31 $APE for that hour.
If you'd like to do your own calculations, here's a chart of each pool's quarterly rewards.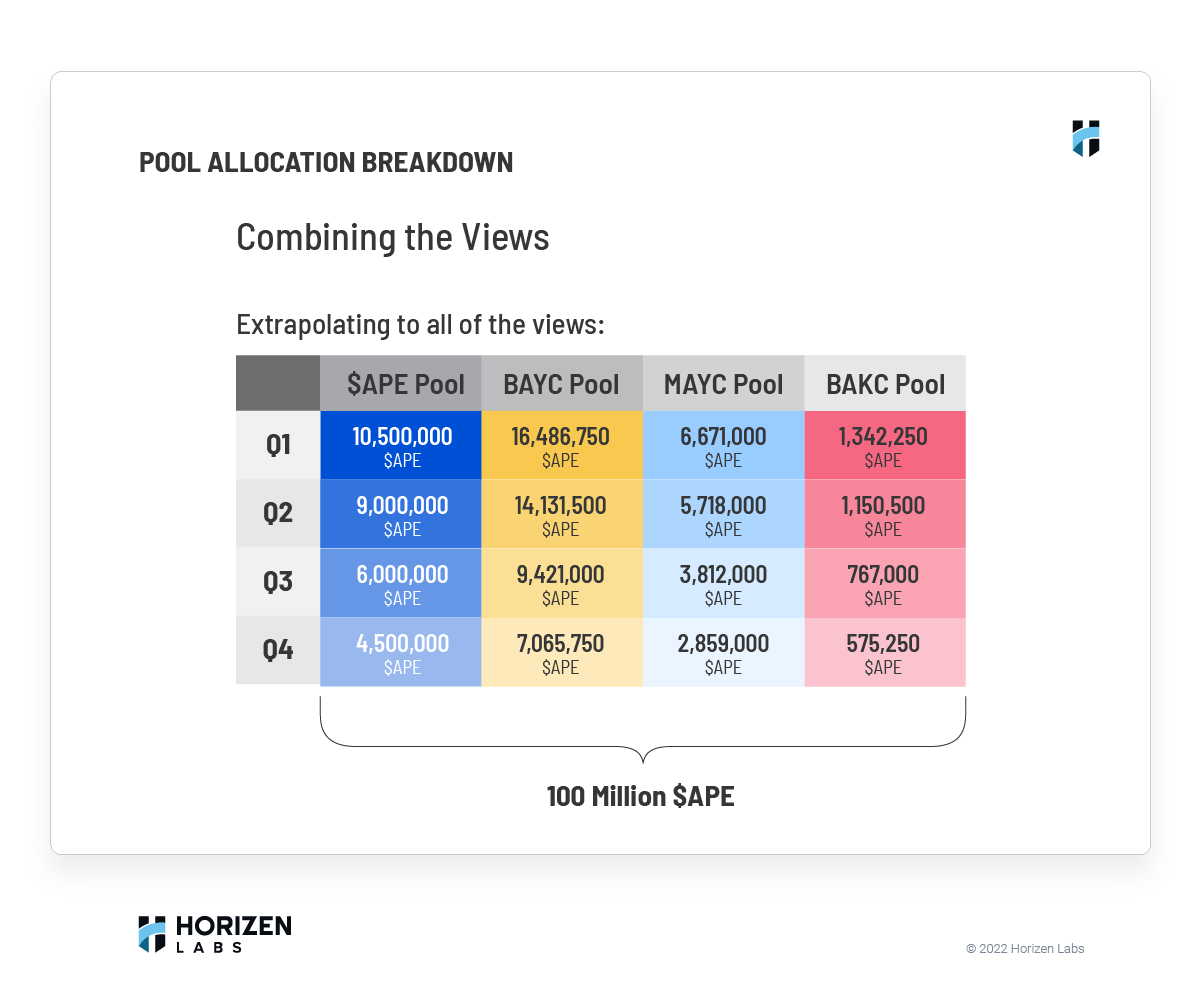 Pool participation will fluctuate, and projecting this variable will be challenging. Having a flexible plan and the right amount of patience will be important, as it is with most NFT predictions.
Who Should Stake?
If you plan to hold any ApeCoin for a couple of months, you might as well stake it, even if you don't own a Bored Ape, Mutant, or Kennel NFT. But the returns on the $APE-only pool likely won't be lucrative enough for you to buy $APE now, purely for staking rewards.
If you don't already own a BAYC, MAYC, or BAKC NFT, I don't recommend buying both an NFT and its max $APE staking amount, hoping to turn a profit. The opportunity to buy the pre-staking dip was right after the FTX collapse. I especially don't recommend buying a BAKC purely for staking, as that collection floor pumped on November 24, when Yuga teased that the Prologue to Mecha Dogs will begin on Christmas Day.
If you plan to hold a BAYC or MAYC NFT for at least a couple more months, staking is a strong play, depending on your risk tolerance and location. Be sure to do your own research, and don't take anything in this article as financial advice. But I hope to save you time as you gather information to make your own, informed decisions.
What are the Risks?
On November 23, Horizen quietly announced that their official website for ApeCoin staking would Geoblock several countries, including the United States and Canada. Crypto Twitter has a wide range of heated opinions on this development.
Geoblocking completely scared some people away from staking, even if they already had their NFT and $APE ready to go. And others are casually dismissing Geoblocking, saying that Horizen is overly cautious, trying to protect themselves during regulatory scrutiny.
People who think Geoblocking isn't a big deal will stake using alternate methods, such as third-party interfaces, direct-to-contract transactions, or VPNs. I will refrain from offering legal advice to people in Geoblocked countries, but regardless of where you live, be sure that all of your wallet interactions are with trustworthy sources.
When Should You Buy and Sell?
If you decide to stake, pay close attention to the beginning and end of each staking quarter, outlined in the bullet points earlier in this article. Just after the staking pre-deposit period began, the NFT floors and $APE price sat well above their November 14 lows, but we could see another pump right before rewards start on December 12. Or we might see a delayed pump—as people hear about high, early reward rates and more people join staking during the second half of December.
The system has a nice balance to it. If more people stake, the $APE price should go up due to increased demand, even though the annual percentage yield (APY) will be lower. And if fewer people stake, the $APE price may dip, but the APY will will be higher.
Over time, I expect the added supply of $APE and decreased rewards to cause a long slide for $APE. In late February, some people will begin to unstake before Q2, when the rewards decrease by 14 percent on March 13. And by mid May, even more people may unstake to avoid the Q3 cliff of 33 percent on June 13.
The biggest wildcards are potential pumps due to added ApeCoin utility. Yuga promised to release "The Trial of Jimmy the Monkey" and more Otherside information before the end of 2022. I could see Jimmy's Trial alluding to future $APE utility related to MechaDogs and MechaApes, but I think Otherside is months away from launching $APE mechanics. Hopefully, we get a big Otherside $APE sink before the staking rewards decline on June 13.
Yuga also purchased 10KTF on November 14. Season 2 of Wagmi-san's adventures could breathe a little life into the token during Q1 as a stopgap.
Final Thoughts
There are a lot of moving pieces to this puzzle. Much of your decision to stake will depend on how you feel about Yuga and the health of the NFT Space at large. Be sure to follow @HorizenLabs and @apecoin on Twitter for updates, and join Metaverse HQ to learn from the best community around. Stay flexible, keep a level head, and take profits along the way.
Another 50 million ApeCoin will be distributed in 2024, and 25 million will be awarded in 2025 for a total of 175 million in ApeCoin staking rewards across three years. I hope you get a ton of that $APE, and that your entry and exit points are timed perfectly.
Good luck and stay safe out there.